3 frequently asked questions about LuxTrust Mobile and their answers
Have you already tried the latest version of our LuxTrust app? It is out since last week. It enables you to authenticate on websites, validate online transactions and sign electronically without using a second device, such as a Token or Scan. Below, we answered three of the most frequently-asked questions (FAQ) about LuxTrust Mobile so that you make the most of it.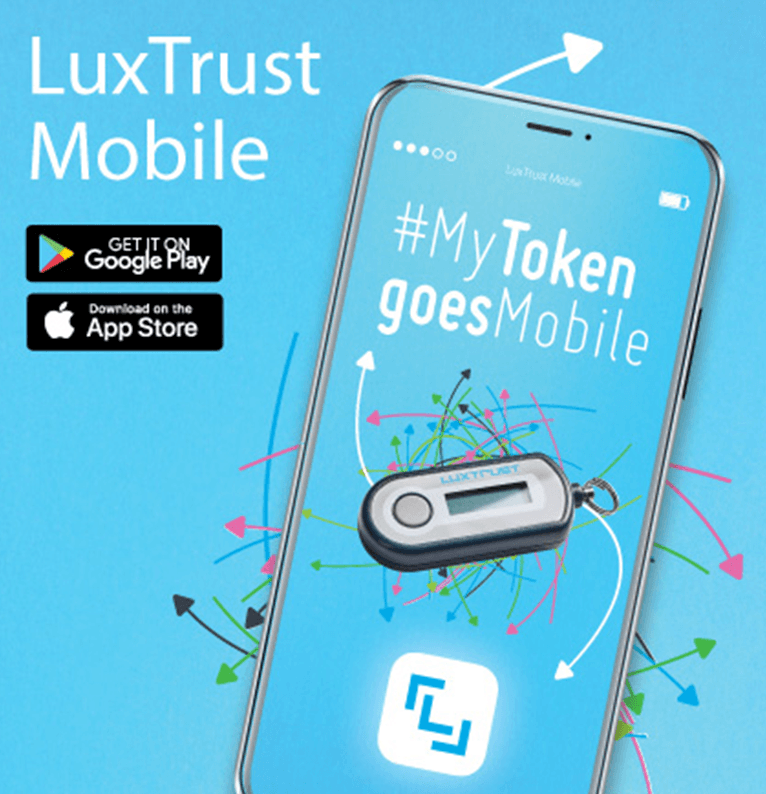 Q1: How do I use this app?
Congratulations! You have passed the activation process, but how do you use the app? This latest version proposes you three main functionalities adapted to various security contexts where you need to confirm an online operation or log in on a website:
Scan mode
It's the easiest and the most straightforward feature. Those familiar with the Scan device already know the drill. You just need to scan the OR code (mosaic image) displayed on your desktop screen whenever you connect to a website or perform an online operation. The app decrypts the image and generates the famous OTP required to confirm the operation. All you have to do is to insert the 8 digits code on the website. It works in less than 1 second!
 
App2App
We have developed App2App feature for those scenarios where the scan mode cannot be used, for instance, when you are trying to access your e-banking app directly from your mobile phone. Following the Scan mode logic, you would be required to scan with your phone a QR code which now appears on your mobile screen. It is a no brainer!

But App2App mode allows you to authenticate even in a faster way. You just need to tap on the QR code displayed on your mobile phone screen. This will automatically trigger the LuxTrust Mobile app to open. The app will ask you to confirm or cancel the action using your passcode, fingerprint or FaceID. After a few seconds, you will simply notice that you are now logged in your e-banking app.
 
Push notification
This is another, more convenient alternative to the classic Scan mode. Instead of scanning your QR code to generate the OTP, you can allow LuxTrust Mobile to send you a notification on your mobile phone when you are connecting or carrying out a transaction. By opening the notification, the app will give you the possibility to review the details of the operation and then to either accept or cancel it. This spares you from inserting any OTPs or scanning images. Your choice will be automatically visible on the initial website.
Q2: What should I do with my Token or Scan now that I activated LuxTrust Mobile app?
With LuxTrust Mobile, you always have your token on you. The app helps you obtain the OTP required to confirm or finalise transactions or operations. You no longer need a second physical device like the Token or Scan to do it, but do not just hurry to throw them away or completely forget about.
Your physical devices can be the backup option in case you lose your smartphone or it gets stolen. If you are no longer in the possession of your smartphone, then you can always rely back on the Token or Scan to connect and manage your electronic identity in MyLuxTrust area (where you can manage your LuxTrust digital identity) or to perform your online transactions until you activate again the LuxTrust app on a new smartphone.
Q3: Is LuxTrust Mobile only for Token and Scan holders?
LuxTrust equips customers with a variety of trusted devices (signing stick, Smartcard, Token, etc.). Due to their own technicalities, some of them do not support the app. So, you can activate the LuxTrust app free of charge only if you already have a Token and Scan. If not, you could request such a device and, implicitly a LuxTrust identity here.
If you are not a LuxTrust client and you want to use the app, you can order a LuxTrust digital identity here. You will have to download the app and go through video identification to activate it.
Should you have any other questions about our LuxTrust app that need answered, do not hesitate to contact our Costumer Service Desk at +352 24 550 550 or by email at: questions@luxtrust.lu.