Pineappli, a Monaco-based start-up, joins the LuxTrust family
Luxembourg, 7 March 2023 – Pineappli, a Monaco-based start-up, that offers a digital document management solution, has joined LuxTrust, the European leader in digital identity and trust services. The goals of this alliance are to strengthen LuxTrust's position and development in Europe and to enable both companies to offer new services to their clients in order to meet their digital transformation needs.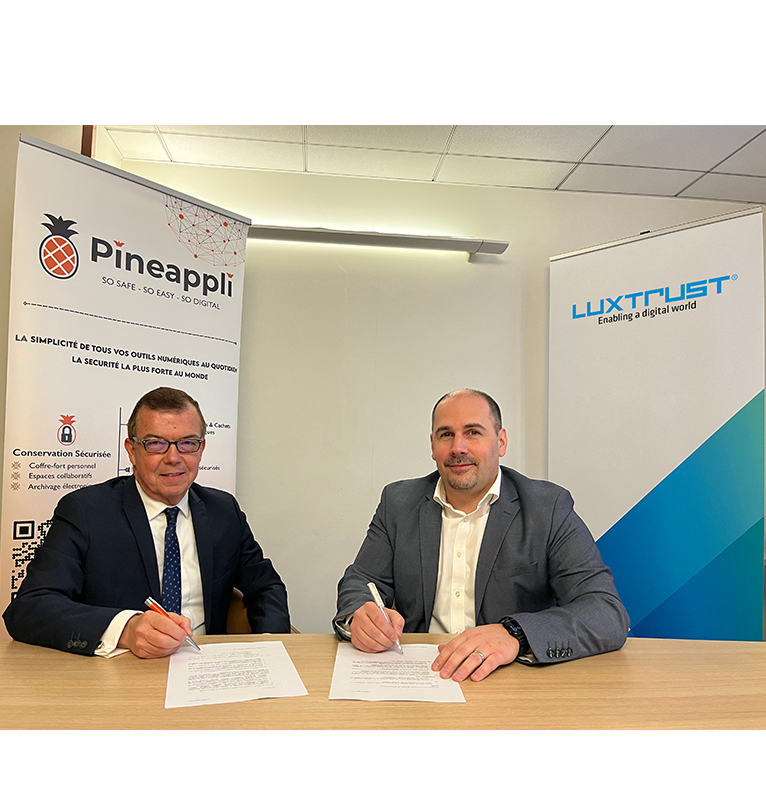 A unique range of services
LuxTrust and Pineappli have a strong expertise in trust services and the digitalisation of processes. Both companies support businesses in all technical, legal, and regulatory aspects.
LuxTrust offers one of the largest range of trust services, including eIDAS-compliant electronic signatures and seals, validation services, time stamping, digital identity creation, and strong authentication. As for Pineappli, the start-up proposes a patented solution that offers several trust services, including electronic safes, NF461-certified electronic archiving, and secure document transfers.
The two offers complement each other, a winning combination for businesses. From now on, all digital services will be available in a single integration, allowing businesses to better manage their implementation and usage.
Both companies consolidate their development and positioning at the European level
Last September, LuxTrust consolidated its presence in Europe with new offices in Monaco. The event marked the third international office for the Luxembourg-based group.
The collaboration with Pineappli, a Monaco-based start-up operating on both the French and Monegasque markets, will allow LuxTrust to confirm its presence in the Principality, but also in Europe.
A common vision to offer the highest level of reliability and security on the market
The two companies not only offer services covering the full lifecycle of a document, but they also share a common vision and culture, built around confidentiality, security, and compliance with European regulations. Both companies guarantee the highest level of compliance and security on the market by leveraging their certifications and their Qualified Trust Services Provider status.
"We are delighted to welcome Pineappli within LuxTrust", says Fabrice Aresu, CEO of LuxTrust. He continues: "The complementarity of our solutions and expertise enable us to provide our clients with optimal solutions to their digital transformation challenges. Our respective status as Qualified Trust Services Providers, as well as the certifications we hold jointly (eIDAS, NF461…), are guarantees for our clients, whatever industry they operate in. This is therefore perfectly in line with the objectives of growth and international expansion that LuxTrust and Pineappli are pursuing."
Jean-Marc Rietsch, President and founder of the Pineappli solution, adds: "First of all, we are very proud to be part of the LuxTrust group, which is a true recognition of the quality of our services. We are also convinced that there are very important synergies between our solutions, which already allow us to respond to almost every digitisation challenge as a single trusted partner."
*On the picture from left to right, Jean-Marc Rietsch, President and founder of the Pineappli solution and Fabrice Aresu, CEO of LuxTrust
About Pineappli
Jean-Marc Rietsch, Pineappli's founder, has international expertise in the dematerialisation of processes, electronic signatures, and archiving.
He built an algorithm to protect data in the strongest way known to date. His solution was patented and, in 2020, the start-up Pineappli was born, offering a unique solution. Putting security at the centre, Pineappli provides access to all the trust services that a company may need, within a single solution.
Pineappli, which is easy to implement and use, has also built its reputation on obtaining numerous certifications such as ISO 27001, HDS, eIDAS, and NF 461 and on its qualification as the first Trusted Service Provider issued by the Monegasque Agency for Digital Security (AMSN).
For more information, click here.