LuxTrust and Gulliver reveal their latest collaboration at Arch Summit 2022
LuxTrust and Gulliver will be at Arch Summit on 26 and 27 October to showcase the latest results of their collaboration – an app feature that enables cross-border workers to prove with accuracy their presence at their workplace and thus comply with current fiscal obligations. This app feature is a good example of how technology can provide practical solutions to everyday challenges.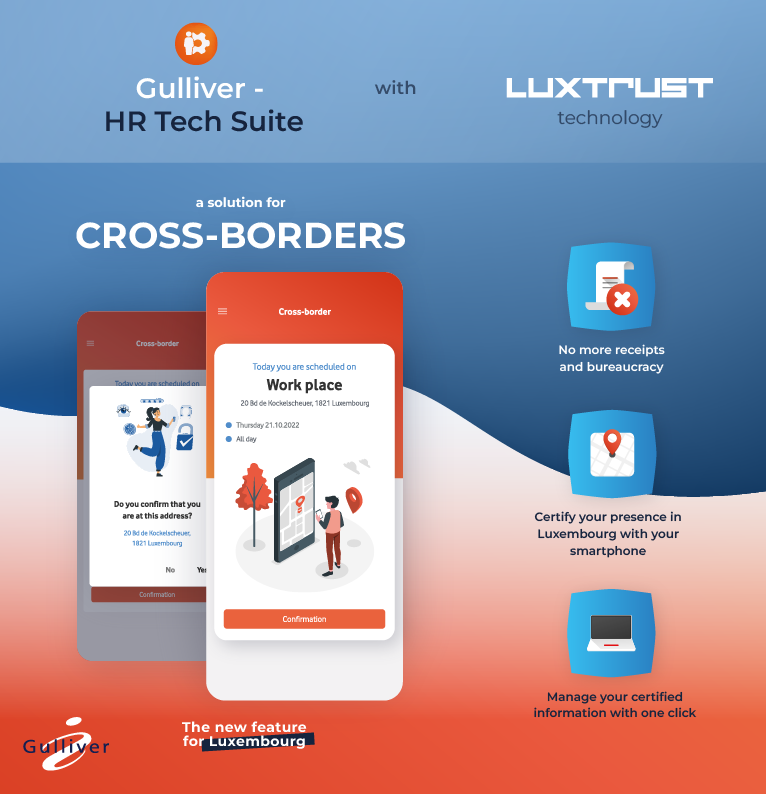 Gulliver is specialised in developing professional solutions and mobile applications for a broad range of services used by transporters, HR professionals, sellers, restaurants, and events. Gulliver's HR solution, G-HR Tech Suite, comprises more than 15 services that facilitate and optimize life at the office. With a single app, companies and their employees can streamline their activities from booking meeting rooms, desks, or company vehicles, to filling in timesheets, managing leave requests, and expenses, or clocking in or out.
Gulliver developed a new feature especially for the Luxemburgish market to enable employees to certify their presence at work in Luxembourg. Since fiscal agreements put in place during the pandemic have ended, cross-border workers must comply with the current home-based working thresholds for their country of residence. The app is a helpful tool for those who have to keep track of their home-working allowances. In addition, it will also help them better manage risks and fulfil their legal obligations in their countries of origin.
This is possible thanks to LuxTrust's timestamping technology which collects legal evidence by automatically binding the presence of the user to a particular point in time. LuxTrust's service works with certified independent date and time sources only, which eliminates the risks associated with using a local clock system.
LuxTrust is proud to support innovative companies through its trusted services. Fabrice Aresu, CEO of LuxTrust, declares: "We are very pleased with the partnership with Gulliver, as we share a common vision to make innovative solutions available to end-users and citizens to help them with their day-to-day challenges. For this specific collaboration, we leverage trust services and mobile application development in order to offer an effective and user-friendly way to produce tangible proofs of presence in Luxembourg for cross-border workers. This is a great example of how digital innovation is at the service of each of us in our daily activities."
Giuseppe Capoferri, CEO of Gulliver, adds: "At Gulliver, we deliver solutions that are efficient, easy to use, and have a real added value in the life of their users. We are honoured to count on the expertise and technology of a like-minded partner, such as LuxTrust. Together, we have further unlocked the potential of technologies in our lives, bringing real solutions to ongoing challenges. We are confident that this latest feature of our G-HR suite app will simplify the lives of Luxembourg's cross-border workers (but not only), bringing them peace of mind and increasing their confidence in the digital world."
Curious to learn more about this app and how you can benefit from it? Meet LuxTrust and Gulliver's teams at the Arch Summit 2022:
When?
26 and 27 October 2022
Where?
LuxExpo – The Box | Luxembourg
How to register?
Click here to register free of charge!
About Gulliver
Gulliver has been one of the market leaders in Italy for smartphone applications for more than 20 years. It counts 350 large and international corporations as well as more than 1500 small and medium-sized companies among its customers. To have better access to the European and worldwide market, Gulliver has established itself in Luxembourg, where it has found a dynamic environment and innovative strategy, akin to its future.
The main engines of its portfolio are its own platforms, MDC-X and G-OAL. With their varied and customizable offerings with a strong focus on mobile accompanied by the two platforms, Gulliver can satisfy a wide range of customers, from micro-businesses to large companies.
In the HR world, Gulliver has created G-HR Tech, a complete suite for companies and employees that combines different HR functions within a single app. By using the smartphone, each employee can interact with the company: book a meeting room or a desk in a shared space or a parking slot, clock in and clock out, communicate with the company, send expense reports, request vacations or leaves, receive communications and useful documents, participate in training courses, etc.
In the logistics world, Gulliver has created G-Transport, a tool for logistics companies to digitalize their process with a single app. In fact, by using this tool, each company can manage the outbound process and the yard, use an enterprise chat, etc. and each driver can use the smartphone to manage all the tasks during his working day.
About Arch Summit
Tomorrow Street's flagship tech event brings together industry leaders and tech enthusiasts to discuss the power of technology that positively affects society and our planet. Network with industry leaders, corporate decision-makers, scale-ups/start-ups, government officials, and major investors as they discuss their journeys and share a vision for the future. Held in Luxembourg at the heart of Europe, the two-day event focuses on exploring next-gen technology innovation and enabling new business opportunities.