GIM-UEMOA partners with LuxTrust and key Luxembourg players for the development of GIMpay
GIM-UEMOA, an international organisation in charge of the interbank payment system for the West African Economic and Monetary Union (UEMOA) zone, has partnered with key players from Luxembourg for the development of GIMpay: Suricate Solutions, a cybersecurity expert; LuxTrust for digital identity solutions; LUXHUB for Open Banking; and i-Hub, for e-KYC services.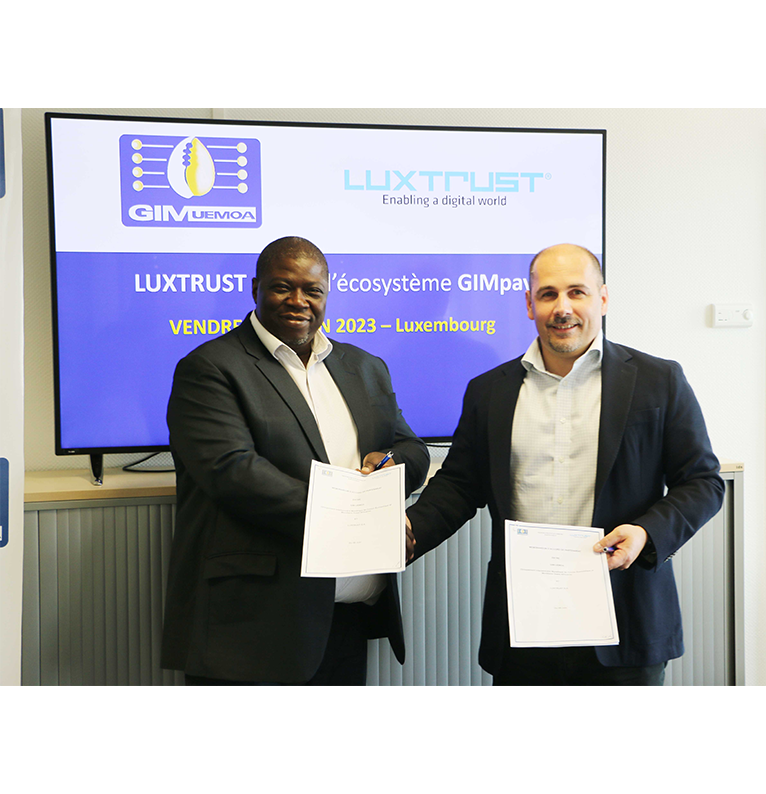 The GIMpay infrastructure and its associated new ecosystem, currently under construction, represent GIM-UEMOA's new mutualisation proposal to support all players in the regional ecosystem in structuring their digital, secure, and relevant offerings.
In an increasingly digitized world, this partnership will provide UEMOA populations with effective and secure digital identity solutions, such as Open Banking, remote customer identification (e-KYC), strong authentication solutions, and more.
According to Minayegnan COULIBALY, CEO of GIM-UEMOA, "We are delighted to partner with key players from Luxembourg to strengthen trust and security in the field of digital payments for the population of UEMOA. GIMpay acts as a catalyst for banks initiatives, electronic money institutions, decentralized financial services, fintechs, and national public treasuries in enhancing customer experience."
Fabrice Aresu, CEO of LuxTrust, a leading international player in digital identities and trust services, adds, "LuxTrust is motivated by the ambitious project of GIM-UEMOA, as well as the opportunity to share its experience and implement its trusted solutions within the West African ecosystem, based on a similar model implemented in Luxembourg. GIM-UEMOA users will benefit in terms of security and protection of their personal data, which will definitely contribute to the adoption of these new services."
Patrice POCHARD, CEO of Suricate Solutions, the cybersecurity leader in UEMOA, comments, "Every week, new cyber-attacks against the West African financial sector are detected. Suricate is proud to bring GIM and GIMpay partners its expertise in cyber resilience and operational security, especially in terms of security monitoring and incident response."
Christophe BIANCO, Vice-President of ACRC, concludes "Suricate Solutions' services are complemented by the establishment of the first community for sharing information and best practices in cybersecurity within the African financial sector by the Africa Cybersecurity Resource Center (ACRC), of which Suricate Solutions is a member. These innovative services will significantly improve the financial sector's understanding of threats, attacks identification, and incident management, based on international best practices."
Claude Meurisse, CEO of LUXHUB, underlines "GIM-UEMOA's strategic vision of Open Banking and, tomorrow, Open Finance. Connectivity between the region's key players will enable greater financial inclusion and the development of new innovative solutions. Based on LUXHUB's experience in deploying Open Banking, we are confident in our ability to support GIM-UEMOA in the achievement of this crucial project for the region".
Pascal Morosini, CEO of i-Hub, comments: "Thanks to advanced technologies and innovation, new payment solutions are emerging. These have opened up new market segments for banks, such as the offline payments market and access to financial services for non-financialized populations. Prudential players such as the GIM-UEMOA will also contribute to the strong growth of e-payment, and to its transformation, by ensuring better regulation and interoperability of transactions, notably through a normative framework, a strengthening of KYC and its digitalization (e-KYC), while emphasizing better risk and fraud management".
i-Hub's focus on the end-client experience goes beyond a BPO outsourcing service, as i-Hub has developed a software architecture that enables certain attributes to be shared between the business relationships of a same end-client, upon end-client consent unlocking faster updates and turnaround.
Pascal Morosini adds, "i-Hub is indeed an asset for the UEMOA zone, as it accelerates digitization and improves the quality of end-client files, and therefore compliance with AML regulations. With this in mind, i-Hub is honored to provide to GIM-UEMOA and GIMpay partners with its expertise in the fight against money laundering and the financing of terrorism".
About GIM-UEMOA
The Interbank Monetary Group of the West African Economic and Monetary Union (GIM-UEMOA) brings together 145 members, including banks, financial and postal institutions, microfinance structures, and electronic money institutions. Our main mission is to promote electronic payment systems and means among the banking and financial sectors, administrations, and populations of UEMOA.
For more information, visit: www.gim-uemoa.org
About Suricate Solutions
Suricate Solutions has been the leading cybersecurity company in West Africa since 2016, with a team of twenty collaborators based in Dakar. Since 2017, Suricate has operated the first Security Operations Center (SOC) in UEMOA, supported by major players in cybersecurity from Luxembourg, and has recently developed incident response capabilities with the support of two major European CERTs.
For more information, visit: https://suricatesolutions.com/
About Africa Cybersecurity Resource Center for Financial Inclusion (ACRC)
ACRC is the first organisation dedicated to strengthening cyber resilience in the African financial sector, securing the rapid development of digital financial services and fintech, and ultimately increasing financial inclusion on the continent, a key driver for economic and human development. ACRC is an independent non-profit organization, based in Dakar and financed by the African Digital Financial Inclusion Facility (ADFI) of the African Development Bank (AfDB).
For more information, visit: https://cyber4africa.org/services
About LUXHUB
LUXHUB is a major player in Open Finance. Founded by four banking institutions in the Grand Duchy of Luxembourg, the company has developed a platform of choice for players in the financial sector in their move to open data. LUXHUB allows financial institutions to make their APIs available securely and to easily access their partners' data.
More information is available on: www.luxhub.com
About i-Hub
i-Hub (i-Hub S.A.) is a financial sector professional serving professionals subject to AML laws. i-Hub's core service offering is an outsourced KYC solution for the continuous management of updates, periodic reviews, risk scoring and name screening of individuals and companies in accordance with each professional's own risk approach. i-Hub is a financial sector professional and regulated by the CSSF (Commission de Surveillance du Secteur Financier) in Luxembourg.
More information is available on www.i-Hub.com